As mentioned in Part 1, you can't beat February for learning about hearts and other body parts.
Another way to help young children learn about bodies besides songs and games is with books. Any bookstore will have lots of stories about bodies, from board books with only a few pages, to Dr. Seuss to The Magic School Bus. I love some of the titles: Germs Make Me Sick, From Head to Toe, A Drop of Blood and Gene Machines. Some of the books can be very specific, like Everyone Poops and Have A Nice DNA.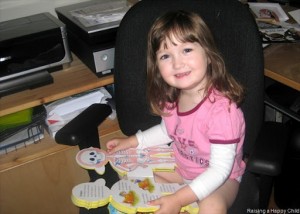 Some kids are fascinated with pictures of skeletons, blood vessels and organs and will choose books to look at by themselves; some are only interested for a very short time. But basic knowledge about bodies is important for health and safety not just readiness for kindergarten. When reading the book with your child, you can make it interactive by having your child point to the same parts on his/her body as are in the book. For kids who have a good basic understanding, mix up a few words so that you can be "corrected". Kids love to share jokes and develop their sense of humor, too. Does this idea tickle you?
P.S. Thanks to Raising a Happy Child at Mouse Grows, Mouse Learns blog  for the super photo.