Regular, ordinary objects that you already have at home can be learning materials for kindergarten readiness. This basket has been used to pretend trick or treat, as a bed for stuffies, a hat, an umbrella, and has now become an Easter basket.  Dice, emtpy spools, elastics and bottle lids have all been drafted as Easter eggs. And the learning? An obvious learning activity with these "eggs" is counting.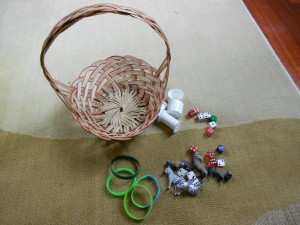 "Bunnies" can count the number of things in the basket. Note: if your little bunny is hiding various things around the house, then "finding" them or having someone else find them, only use a few items and count them. Otherwise the vacuum is liable to locate them and dice make a terrible noise as they rattle all the way up the hose. Younger children will use a few numbers in order and then several random ones. Older kids may be able to count accurately to ten and much higher.
B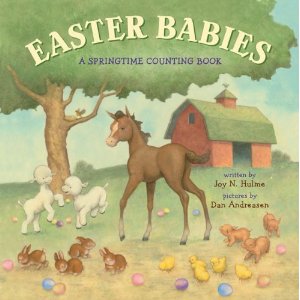 esides math and counting there's other skills learned too. There's no doubt that imagination is getting some exercise when kids pretend to be the Easter bunny. Plus, using one object to take the place of another object is a fundamental skill for learning to read. Words (lines and squiggles) take the place of meaning.
A counting book makes a fun/learning addition to an Easter basket. There are numerous books for Easter counting. I just saw this new one by Hulme and Andreasen and love all the baby animals.   What do you have in your house that your child can play with for some counting and learning fun?