Having a sense of adventure can be thought of as a learning strategy that will influence children's readiness for kindergarten and zest for life. Just like curiosity, it's important that the adults in children's lives encourage and support their internal motivation.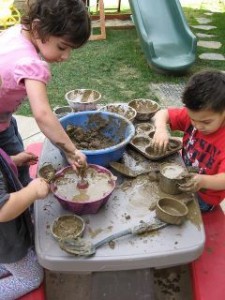 For children, even playing in the mud can be adventure. Usually, kids are not at all reluctant to get dirty. Adventures can be anything, such as going to the local library for story-time, a morning in the park, an afternoon at the playground, a trip to the grocery store, or a ride on the city bus. Planting seeds found in some fruit at snack time or playing with some containers in a bit of water at the kitchen sink are also fun experiences.
Adventures can take place at home as kids dig through some clothes for dress-up, help make cookies, blow bubbles in the backyard, squish play-dough, and make a tent with a blanket over the kitchen table. These and other activities will help your child develop a positive attitude to exploring and discovery and practice this valuable learning and thinking skill. What adventures can you and your child have today?