Kids communicate to us about what they need to learn for kindergarten readiness and beyond. Are we getting their messages? This little one is a perfect example: Kids need balance.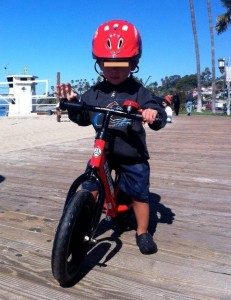 Kids need balance in lots of different ways. They need to learn how to balance their bodies in a variety of spaces. Their days require a balance of physical and mental stimulation, busy times and quiet times, inside the house and out in nature.  Play and fun activities will color their days but it's important that they help with work ones too like picking up their toys and putting their dirty clothes in the hamper. Hopping to the hamper like a bunny and tidying up toys like a wind-up toy that needs a tickly winding up add a few giggles to the chores. We all know that whatever kids will eat needs to be balanced for good nutrition –and can include occasional treats.
Learning to balance and regulate their emotions is a big learning challenge for kids. Another way we provide balance for them is encouraging them to do things independently, especially as they cope with being in group settings such as preschools and daycares. Time together and time by themselves is also a consideration. As you and your child experience this day, are there some activities that will support and encourage the learning and thinking skill of balance?