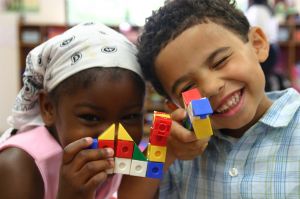 The first day at kindergarten (or preschool or daycare) can be scary even for children who are prepared for school. Did you know that playing can help your child with kindergarten readiness?
If you know some of the other children who will be attending a program with your child, a few playdates help build some familiarity and friendships with other classmates. Especially for anxious little ones. Or you may be able to phone several parents and arrange to meet at a local park or playground for some fun together. Seeing a familiar face, even if kids have only played together a few times, can be reassuring to a child who feels overwhelmed in a group.
Playdates could take the form of inviting another parent and child over for lunch so you can get to know the other adults. Some of the kids your child starts school with now, will still be there years later so it also helps you get to know the other parents and caregivers. Carpooling and exchanging-care in case of sick kids is easier if you have been able to create some contacts in the group. Are you excited to meet some of the other people in your child's school family for the next 13 years?