Children can be both excited and nervous about starting kindergarten (or preschool); it is quite an adventure. Helping kids deal with their concerns is part of kindergarten readiness.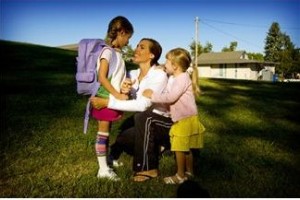 The First Day can be especially challenging. Explain each step to your child and, if possible, on the weekend when schools and programs are closed, go to the school and practice how it will happen. First, the car needs to find a place to park. Check out the door and what it looks like. Walk to it together and remind your child what happens inside. (Many schools will have a visiting day before school starts.) Even practice blowing kisses and saying goodbye, as you pretend to walk to the car. Your watch says that it's time for pickup so you can tell your child hello and ask about the day.
For fun, you can switch roles and now be the child going to school, and your child can be the parent that is going away and coming back. Make sure that you cry and see if you can get your child to reassure you that he or she will be back for you soon, and that you will be able to handle it. Or you might want to have a temper tantrum making your child giggle or a tummy ache which your little one fixes all better with some hugs. You can pretend and practice as much or as little as your child needs.
After all that practice, it might be time for a treat or some playtime in the playground. The real drop-off will be much easier because it will be familiar to your child. Did you know that practice will make it easier for you to say good-bye, too?