The walk through the kindergarten or preschool door may only be a small step for your child's feet, but it is a giant leap in terms of independence and expansion of your child's world. Just as Neil Armstrong had to be prepared for his journey, so do kids need us to help them with kindergarten readiness. The story of Neil Armstrong and his visit to the moon has inspired older generations. Going off to kindergarten is an adventure for kids; their "outer space" is the world beyond home.
There are some wonderful stories that you can read to your child about going to school. Bookstores and grocery stores will have displays of books and libraries will have some that you can check out. There are dozens and dozens of titles. Look for a book that will encourage you and your child to talk about all different kinds of feelings: excited about going, maybe a little nervous or scared. As you read to your child, you may notice some body reaction. Does your child seem to be relaxed, eager to check out the pictures and ask lots of questions or stiffen up and look down and away? These are clues about how your child is feeling and are especially important as kids might not have the words they need or be able to identify their feelings.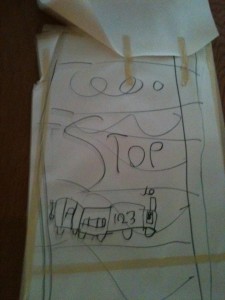 Make up your own stories, too, and suggest some feelings. Your child may tell you that's not right or be relieved that you know. Here's an example: One day, a little boy or girl who looked just like you…hmm, maybe it is you…was thinking about going to school. This little person said: I'm going to school. I'm going to school by myself. I'm going to school by myself and I am excited. Yes, I am. Yes, I…..Yes…..Well, maybe I am a little, sort of, kind of, well…..I think I am feeling scared.
Remember, in a story you can imagine anything and find some solutions that will work for the people in the story that will work for your family. I love the true story of a little girl who was taking extra long one morning to get ready. Her mother told her to hurry or she'd be late for the bus and miss school. The little girl replied "I'd rather stay home and miss school, that go to school and miss home." No matter how excited children are to say hello to school, they still have to say goodbye to home. It might not be the moon, but it can feel like a very long way.
Instead of "3-2-1 -Blast off!" are you and your child ready for
1-2-3-Kindergarten?