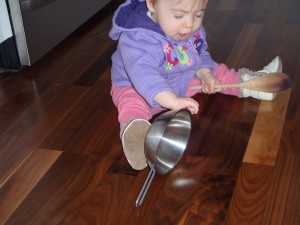 Hands can make all kinds of rhythm and rhythm makes all kinds of brain connections for early learning and kindergarten readiness. Drumming is a favorite activity for young children. Pots and pans and wooden spoons can make just as satisfying a sound as a real drum.
As far as rhythm goes, it's no wonder that kids like to explore and create rhythm. After all, it's pretty basic. Just think of such natural rhythms as heartbeats, breathing, walking, running, and language.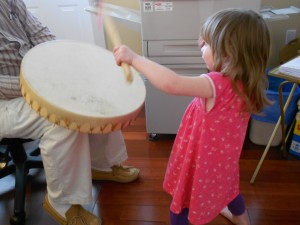 Drumming uses some basic musical concepts, too like fast, slow, loud and soft. If you and your child each have a drum, you can play a very simple rhythm which your child can copy, like an echo. This is very helpful for kindergarten readiness, because it encourages careful listening and attention. Rhythm also encourages both physical and mental development.  It's not easy to coordinate movement to a beat.
You may need to use some earplugs and have a Plan B. Do you agree that, usually a few minutes of drumming goes a long way?