Parents and caregivers often ask what young children need to know before kindergarten; this is the 11th in a series of blog posts on kindergarten readiness and early learning basics. No matter the age of your little one, this will give you a general picture of what to do as your child's very first teacher.
Imagine being just 4 years old or maybe 5 and in the brand new space called school for the first time. Chances are high that there will be some things for kids that are new and different. When kids encounter these unknowns they may need some help. Do they know how to ask for help? Children need to know that it is okay to ask for help and how to do it.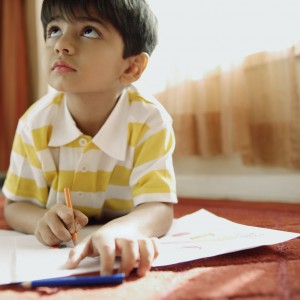 Asking is a lot more complicated language-wise than just telling, so as parents and caregivers we need to teach children how to ask. When we notice kids struggling with something and obviously needing help we can just give them the words. For example you may say to your child, "You are really trying to reach that book but you need help. You can ask for help by saying: Can you help me reach that book?" This sounds so basic, but I know from experience that sometimes 4 and 5 year olds at school do not remember how to ask.
Besides giving kids the words we use, we also need to model asking for help. We need to walk the walk and talk the talk ourselves. Explorations Early Learning had a super post on this same topic:
Care-giving and parenting are tough jobs. They require abundant focus and emotional labor. At times, these jobs can seem overwhelming. If you need help, resources, assurance, ideas, direction, information, or any other kind of support ask for it…. A side benefit of asking for help when you need it: it teaches the children in your life that they can do the same.
Children learn from seeing parents and caregivers asking for help. By giving kids the words to use and the example of ourselves asking for help, they will develop another strategy and skill ready for when they go to preschool, daycare and kindergarten. Helping each other is another way of connecting. Does this information connect for you and your child?