Being part of a community and participating in or just watching cultural events is also part of kindergarten readiness fun and learning. We all live in a space that we share with others, so we need to learn about others as we are learning about ourselves.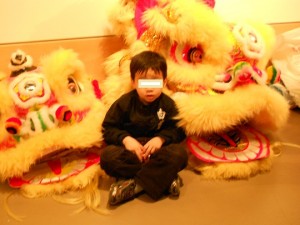 This weekend, many communities will have a Chinese New Year celebration. There may be appropriate activities for kids such as making lanterns, hearing a story at the public library, having a name done in Chinese writing, tasting some special foods, opening a fortune cookie, and watching a lion dance. The lion scares away bad luck and brings good fortune, spreading joy and happiness.

When you come home from a Lion dance or parade, little ones might enjoy trying the lion yoga pose complete with roar. Apparently, this particular posture or pose can help with sore throats, which are so common at this time of year. The little boy in the top picture needs more than a yoga pose. He needs a rest. Can you add some Chinese New Year fun and learning to your family's weekend?