Today, kindergarten readiness fun and learning is taking a bath, a color bath that is. This play-of-the-day is one of my personal favorites. I love decorating eggs. It's a fun activity for all ages. Younger toddlers like to watch the color changes. Older kids can be much more creative, combining colors and adding decorations. Adults can create elaborate designs. Activities that are done year after year build traditions and memories and connect families. Here's some ways this helps with skills that last much longer than kindergarten: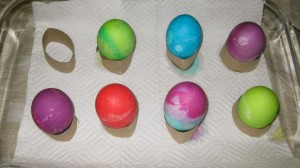 Colors are difficult to learn because there are so many different ones for each color name. Kids need to have lots of experiences in order to be able to match a color to it's name. This is a way for kids to practice the names of colors and to experiment with how colors can mix and change. Some children like to have only 1 color for each egg, others will dip 1 egg in every color available, which usually makes a sort of purple-grey.
There are so many variations such as wrapping around elastic bands, covering parts with wax crayon or tape, wrapping eggs with old tissue paper, adding a bit of olive oil for a marble effect, decorating with stickers or glitter glue, and more. This is wonderful for imaginations.
Waiting for eggs to color and dye stretches patience and concentration. When working with others, it's important to share and take turns. There's a sense of anticipation and excitement as kids watch and discover, as well as a sense of satisfaction and accomplishment.
Maybe we can't tell eggs a joke in case they crack up, but do you agree we can sure have a lot of fun and learning coloring them?