During an Easter egg hunt kids can find not just eggs, but fun, early learning and kindergarten readiness, too. Many places will have community activities this weekend and some families will do this at home. But wherever you are, as kids are hunting and finding eggs, they are practicing looking for details. They need to sort out what is relevant information and what is not. For instance, both some rocks and eggs are oval shapes, but the colors will be different. Kids will concentrate and bring their attention back from distractions.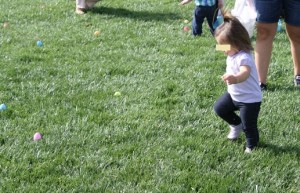 Adults can extend the learning but adding in some comments, "Oh look, you find a blue egg." This reinforces color skills and adds in some language. Placement can be tricky concepts. Is an egg in the grass or on the grass? Kids need to hear about in, on, beside, under, above and other words over and over to build their understanding.
Plus, in a way kids are connecting with others on the same hunt this weekend in various places around the world and participating in an activity that's been done far into the past and will continue for future generations. All this adds up to early learning and fun that will last far beyond school. What else might families and kids find when they hunt for eggs this weekend?