A few items, that you may quite likely already have, can be put together to make a sensory bin for some cooking fun, learning, and kindergarten readiness for young children. While it will take a few minutes to sort these things out later, they can still be used once they are rinsed and cooked in boiling water. Or they can be kept in a covered container for next time. Materials like bean seeds, pasta, and corn can be used to create the sensory bin mixture in a big bowl or plastic container. Add in some measuring spoons, cups, and little dishes or containers.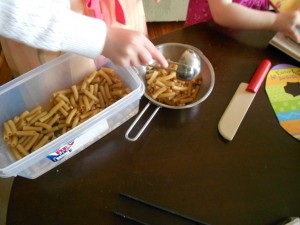 Just like with water or sand play, kids love to fill big containers using smaller ones. Scooping and pouring are actions that kids will do over and over as they fill and empty cups and bottles.The various textures are stimulating for the sense of touch. Kids can feel heavy, light, rough, smooth, slippery, flexible, and rigid. All of these things will also make different noises in the containers as kids measure, pour, stir, and create. In addition to stimulation for hearing, and touch, there will also be lots for sight, especially looking for bits to pick up after.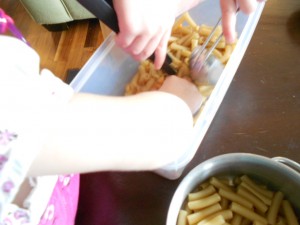 Big Sister was able to keep most of the material in the container even though it was quite small. She liked to fill and pretend. When Little Sister woke up from her nap, she of course wanted to play too. A bin like this one is better for only 2 hands at a time. Young toddlers manage better with a low, flat bin, otherwise quite a bit spills. Little Sister especially loved the noise as she swirled her hands around, grabbing fistfuls and dropping them back in.
Much of children's play is imitative. Children will have watched parents and caregivers cooking and will try and use some of those same actions, such as measuring, stirring, and pouring. Kids will not only do some of the same things, but also use some of same words that adults do. Their play is imaginative and parents and caregivers will be asked to 'taste' something the little cooks have made. It might be hard to pretend though, that a cup of corn, beans, and pasta is coffee, but it's important to make slurping and other sounds in the spirit of play. Do you have some materials for  sensory cooking fun that your child can use?