If you need a reason to save those bits of treasures that kids fill their pockets with, it could be that they make great finds for sensory play as well as fun, learning, and kindergarten readiness. A big jar lives at our house with rocks, seashells, bits of wood, tiny pieces of sea glass, and other treasures collected from various family members over the years. For play time, though, it gets emptied into a shoe box or other container. To play with it, kids have to be old enough that they do not put things in their mouth, or anybody else's or try feeding items to any cats, dogs, or fish that might be sharing the space. Once that's understood, then the fun can start.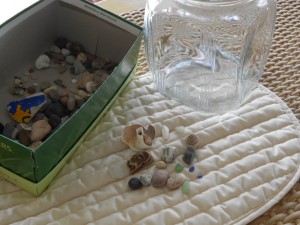 Rocks and shells have a variety of textures and other feelings: smooth, rough, pointy, round, light, heavy, big, small, and more. Kids enjoy touching and holding them just for the feel. Even very ordinary rocks can have lines, swirls, polka dots, and other features to see. Sea shells have wonderful ridges and bumps on the outside, while inside they are smooth and glassy. Colors are usually soft, not bright and bold, but greatly varied just the same. The lines make patterns that can be felt or seen by little hands and eyes.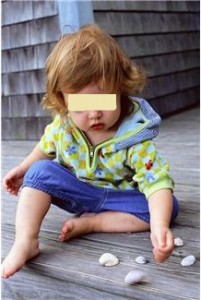 Kids will play with these small items in different ways. Swishing rocks in a little bit of water makes their patterns much more visible. Some kids may line the rocks or shells up, make their own patterns, create pictures, count them, stack them, or sort them into different groups. Two rocks tapped together make sounds. Big rocks or shells are often the mommies and daddies, while small ones are the kids and babies. Nature connections, sensory stimulation, and loose-parts activities are combined as kids play. Are there any rock, seashells, and other treasures that your child can play with today?