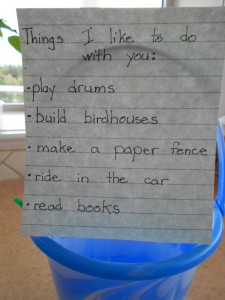 As we climbed into the car from daycare today, I was instructed not to squish the special present, a big tie cut from a brown paper bag, painted, and covered with bits of paper, stickers, foamies, and stickers. Once at home, the bag had to get hidden in the back of the closet so it could be a surprise. Sometimes, at garage sales and thrift stores there are real ties with similar patterns. Are you looking for an answer to the question what kids can do for gift ideas beyond the tie? Here's a dozen:
Ask kids what they like to do with dad and make a list.
Attach to a plastic bucket to be a bucket list.
Cover a plain pillowcase with drawings in fabric paint for sweet dreams.
Kids can dip their hands in fabric paint and handprint a t-shirt.
Have kids draw on a coffee mug. Craft stores will have special paint that won't wash off.
Kids can cut out lots of pictures of things that dad would like, glue them on to a big piece of paper. Adult hands can cover the big paper with clear contact paper to make a placemat or desk protector.
Dads rock so kids can paint a rock just for dad.
For dads that like nuts, fill a nice jar with nut mix. Kids make a circle picture for the top that says Nuts About You.
A piece of magnet on the back will turn a small picture into a fridge magnet.
A shoe box can be decorated with anything to make a treasure chest. Kids can find some treasures to put in, such as a pinecone, twig, seashell, bit of shiny paper, or other item kids collect.
If dad takes his lunch in a brown paper bag, kids can color pictures all over several so dad feels like he is having lunch with his kids.
Cookies make a great lunch treat. Kids can help make cookies and put 2 or 3 in a baggie for each day. Freeze if needed.
Memo boards are easy to make. Have kids color just around the edges of a plain paper and get it laminated. Attach some magnets to the back. Include a dry erase marker.
 And to make a baker's dozen, here's a fun idea for a tie. Find a solid color tie. Using fabric paint, kids dip a finger in the paint and put fingerprints all over the tie.
For children who are not with their dad, it's a hard time of the year. A small photo tucked in a pocket that a child can touch and hold may be a comfort. Record kids singing some songs and send dad their voices. Dad can send back his.
Often kids in care centers make cards for their dads. For children whose fathers have passed away, instead of cards, fold the paper to make a small packet for seeds. Tuck in a few special seeds for kids to take home and plant. They can think of their dads as the plants grow. Does this give you some ideas for things that kids can make and do for Father's Day?