Treasure is usually something that pirates find but today the treasure is something that little pirates can do: building and playing with blocks or other construction toys. For fun, learning and developing kindergarten readiness, blocks and construction toys can be wood, plastic, sponge, or even recycled materials. Kids can use these to make pirate boats, forts, hideouts, treasure chests, castles or whatever they imagine.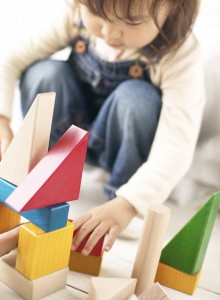 When children play with blocks, they are developing some important thinking skills and strategies such as organizing, planning, and problem-solving. they are learning about sizes and shapes and experimenting with spaces. This hands-on play helps for being able to visualize or create images in the mind. Kids are also exploring how pieces balance. At first, kids may only be able to stack 2 or 3 blocks until they topple over. Later, children will challenge themselves to find out how many they can add and towers get higher and higher.
At the preschool age, muscles are still developing and kids are learning how to coordinate their movements. As kids lift, carry, place, fit, balance, stack, and other actions, they are strengthening muscle coordination. They are also learning to control the amount of force used. A block may need just a little tap so that it is in the right place. Too much energy may push the piece beyond the right spot.
While younger children will not be able to create this complex pirate scene, they are certainly being creative and enjoying the play. An advantage of construction toys is that they can be used over and over, and for children of all ages. Adults too enjoy this kind of play. Have you seen any pictures of lego bombing, where lego is used to fill in places and gaps in cities? This is a form of block play for grownups. Play is a treasure for all of us. Are there some blocks or other construction toys for your pirates to play with today?