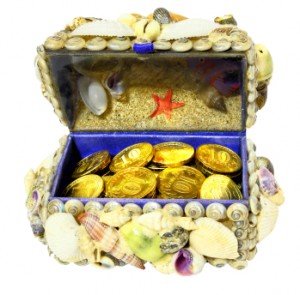 Pirates and kids need a place to keep treasures and making a special box is a great learning and fun project that helps develop kindergarten readiness too. Do you remember having a special box to keep your treasures in as a child? My favorite was similar to this one, all made of sea shells. The shells kept falling off and I kept gluing them back for years. Of course, I didn't have pirate gold in it but I think I remember a few coins, some shells I'd found, and very likely some rocks.
Not all kids enjoy crafts to the same extent, but they do like making things. Kids can make a box to hold treasures using a shoe box or other container with a lid. Shoe boxes can be decorated with colors, fabric scraps, stickers, shiny paper, seashells, foam bits or whatever else appeals to kids.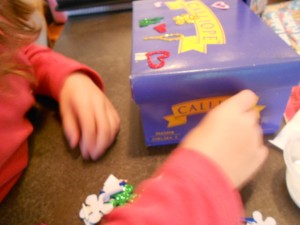 It's easy to see how this encourages creativity, but it also promotes problem-solving, planning, making choices, organizing, and other thinking skills. As kids color and glue, peel and stick, they use the small muscles in their hands, fingers, and wrists, practicing their fine motor coordination. Older kids will likely spend more time and effort while younger ones may only put a few decorations on their treasure box. The talking and explaining gives an opportunity to use language skills as well. It's a perfect opportunity to talk about colors and shapes.
All of us need to feel a sense of accomplishment and being able to make something is quite empowering. These feelings and emotions are a positive and powerful treasure, no matter what things are kept in the box. What are your ideas and thoughts on making pirate treasure boxes?