I'm sure having fun with this series of posts on adult jobs that grew from children's play. Play contains all kinds of learning, as well as fun, that has influence far beyond kindergarten readiness all the way to adulthood. Besides The Human Computer, Shakuntala Devi, who played with numbers, and Raymond Loewy, the industrial designer, who loved to draw, here is a quote from a FB post from Dot at Busted Button: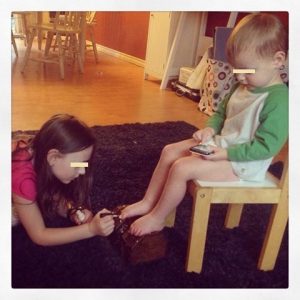 "This just happened at my house! Haha! My daughter is a budding entrepreneur, and always has a new business idea. Today her "spa" is open, and she is offering free pedicures to two year old boys, if anyone is interested.
I was exactly like her growing up! I started selling bracelets to the kids at school when I was just 11! Even though the career quizzes in school said I should be a zoologist or doctor, I knew I wanted to keep being a crafter/artist. My twin sister, Debbie, from Happy Yellow Dress was on the same page too! So, I'm rambling, but was just inspired to encourage you in your passions, even if there are people out there who act like being creative can't be a "real" job."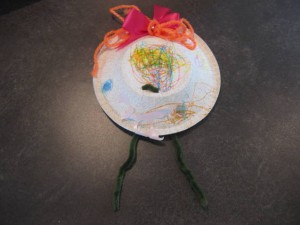 Dot's inspiration is for young kidlet people too, who play, imagine, and create. For a play-of-the-day, set out some materials that your child can use for crafting. Recycling baskets often have small boxes and papers. Bits of fabric, ribbon, yarn, and (as long as kids are past trying them in ears, nose, and mouth) a few buttons. Of course, glue will be needed so it may be advisable to protect tables and counters with newsprint or a plastic tablecloth. Bread tags, twist ties, bottle caps, and uncooked pasta are a few more suggestions. Kids will use practically anything in imaginative ways! Right, Dot and Debbie? Who knows, is it possible that your child's play now might influence a future choice?
FREE ONLINE COURSE
Enroll in this free online course, Brain Power and Play for Young Children, to learn how to boost your child's brain power before kindergarten!