In this brand new year, will your child be starting kindergarten? Are you asking, "Will my child be ready for kindergarten?" "What is kindergarten readiness anyway?" Could you use some answers?
This is a series of posts that looks at some of the basics of getting your child ready to start kindergarten. Does your child have a connection to nature?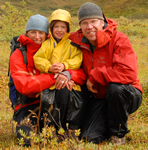 Kindergarten readiness is so much more than academics. A very real and growing concern is the lack of a connection to nature that impacts learning, development and well-being. This quote from the Center for Families, Communities, Schools and Children's Learning seems to sum up the message: "Children learn best through their everyday experiences with the people they love and trust, and when the learning is fun. And the best place for these experiences is outdoors, in the natural world."
Some general knowledge about nature is that it is a cycle. Children can often connect with trees in their neighborhood to watch this cyclical change. Even urban areas have pockets of natures that children can explore with parents and caregivers to connect with nature. We don't need to be naturalists to share some important basic nature knowledge with kids.
Richard Louv, author of Last Child In The Woods, says that "The future will belong to the nature-smart—those individuals, families, businesses, and political leaders who develop a deeper understanding of…the natural world and who balance the virtual with the real. The more high-tech we become, the more nature we need." He attributes some alarming childhood trends to a "nature-deficit." One of the solutions is to support opportunities for children to connect with nature.
Kids need time outside to play and nurture their sense of wonder. Does your child have time to connect to nature?
There have been 10 posts in this series on supporting early development and readiness for kindergarten. For a whole year of ideas, check back each day from Mon-Sat for a post on the blog: http://123kindergarten.com/blog/