Not everywhere has snow, but even without it here is an activity from last year that supports both fun and the kindergarten readiness skill of sequencing. It can be done while warm and toasty inside with playdough, or outside in the real kind.
Before starting, talk about making snowmen. Ask your child or students about how to make one with playdough. What other things are needed? The talk time is a very important part of the project and encourages language learning.
With a batch of white playdough, have your child or students roll out the first ball. ***If you can, take a picture of just this first ball.*** Roll out the second ball. ***If you can, take a picture of this second ball.*** Roll out the third ball. ***If you can, take a picture of this third ball.*** Now, add some bits and pieces for the face. ***If you can, take a picture of the whole snowman.*** Print the pictures and cut them out to make 4 images that can be shuffled up and put back together.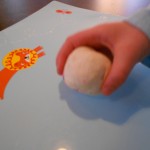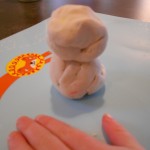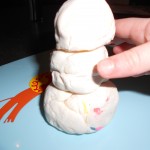 Now, that the snowman is done, the kids can tell all about doing it using the pictures. What happens first? Then what happens next? Putting the pictures in the right order can be a challenge for kids, especially the younger ones, while older ones may be able to use 5 or 6 pictures to put together in a sequence. In any case, this is another activity where kids will need lots of experiences with sequencing before they understand the concept. It also gives them practice looking at visual clues and manipulating images, skills needed later for learning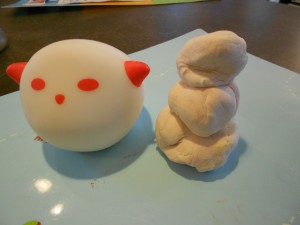 to read.
On snowman making days, you may be able to take some pictures of real ones so that the kids can re-build the snowman long after he melts. All on her own, one munchkin found this lamp and brought it over because it's "…kinda like a snowman." This one won't even melt. Will your child be able to make a real snowman or just a pretend one?