I can hardly wait to try this activity for some winter learning and fun and I know that the play time will help support kindergarten readiness too. On a FB post today, Vanessa Kelly McRostie, shared this super activity that was a hit with her kids. She partially filled 2 large, plastic containers with water and froze them to make an ice hockey game and a skating rink. Blue and red plastic rulers made the lines, just like the lines the kids would see at a real arena. The kids used their toys to play on the ice.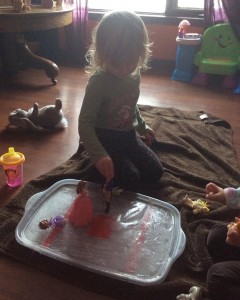 Both the hockey game and skating rink are great play activities for stimulating imagination. The kids get to create how the toys move, where they go, how they interact, what they do and more. Brains make connections between real experiences and imagined ones. This requires remembering and reconstructing. As kids play they remember their experiences of hockey games and skating times as well as things they have seen and heard about in books and tv. All this information is used as kids make up their own hockey game or skating stories.
In their play, kids get to practice words like twirl, slide, fall, cold, hard, score, rules, and other special vocabulary. The feeling of the ice is very sensory. Small muscles in the hands and wrists get exercise moving the toys. Not only do the kids play with the toys, they play and interact with each other. These are just a few of the learning and thinking skills and strategies.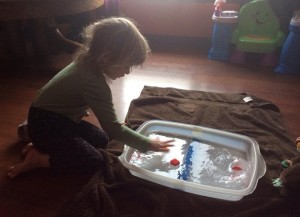 There is also a very important life lesson involved. Just like real skating, the toys will fall on the ice. When they do, they will get up again. How often have we all had the challenge of "falling down" and having to pick ourselves up? As the toys fall on the ice, the kids will pick them up and get back in the game, recording in their minds what they will need to do many times in the future.
Special thanks to Vanessa for sharing these photos and the activity. Do you have a winter activity that you could share? ( email to: teacher@123kindergarten.com)