Snowmen and snowballs are usually circles. Having a basic understanding of shapes is sometimes included on evaluations and screening for kindergarten readiness. This isn't so much because it is critical knowledge but it gives an idea of the level of children's thinking. For instance, a child may be asked to put shapes that are the same into a group. To be able to match shapes, kids have to carefully look for ones that are the same and sort them from the others. This is called categorizing and it's an important thinking skill. Like so many other early learning concepts, the key to learning shapes is exploration and repetition.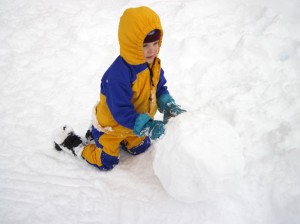 Snowmen and snowballs have a recognizable circle shape. Talk with your child about the shape of snowmen and snowballs. Do they have corners like a box–a square? Or are they round like a ball-a circle? (These are 3-d objects and geometric shapes are 2-d but kids usually understand the basic shapes.) Here are some ideas for playing and learning about circles:
Look for some circle shapes at snacks and meal time. There are circle dishes, but are there circle foods?
I Spy around the house for some things that are circles. Any in the living room, bedrooms, and even the bathroom?
When it's time to put the toys away, start with anything that has a circle, like toy cars, balls, etc.
Do you have any books or stories about circles to read and share?
Maybe you can go for a walk to see if there are some circle or round things outside.
Back in the house, have your child curl up like a snowman. You may get half-a-minute while your "snowman" sits there oh so quiet. When the sun comes out, they melt into any old shape.
Are there any circles or things that are round in the recycling basket or plastic container drawer?
Of course, the most fun of all would be to roll some snowmen and snowballs but not everywhere has snow. What other ways can you have fun with circles?