Kids connect to sports, sports connect to the Super Bowl and to one child in particular. If you have been watching trending videos this week, you may have seen the one about the 12 year old boy with a heart condition that means contact sports could be life-threatening for him. But he loves football and shares that love with his dad. His wish was to meet his favorite team, the Seattle Seahawks, with his dad and that wish came true. Although, his dad has gone back to his job in the Middle East, Kevin Lee will be at the Super Bowl, in full cheer.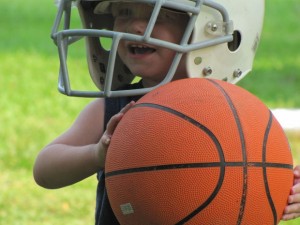 Why do children connect so strongly to a team? For some adults, watching a game is like the endless Groundhog Day in the movie. Not so for kids. Even preschoolers have favorites. They will know names, numbers, and team colors. It could be the excitement and the noise that attracts kids but it's quite likely the action and the movement. Did you know movement is of critical importance in early learning and development?
Children need to move in order to learn. In their book, Play: How it Shapes the Brain, Opens the Imagination, and Invigorates the Soul, Dr. Stuart Brown and Christopher Vaughan write: "Movement play lights up the brain, and fosters learning, innovation, flexibility, adaptability, and resilience." That's a lot of yardage gained from moving and grooving. Movement activities create pathways in the brain for learning language, math, and reading. Vigorous, active play promotes all kinds of kindergarten readiness skills and strategies.
In the spirit of the Super Bowl, enjoy some movement play with your child this weekend. You may want to play throw and catch with a ball, or just run around. Kids love to create their own games. You can celebrate the fun and learning no matter which team wins. By the way, which team (or teams) are you and your family cheering for?