What did the baby calf say to the momma cow? I need to mooove.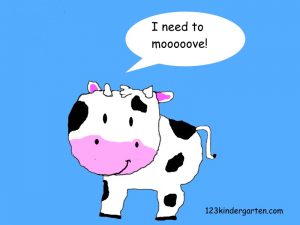 Human babies need to move too so include some quick and easy movement activities for kids. This is Part #2 in response to the following question for parents and caregivers of young children.
Q. If, after St. Patrick's or April Fools, you somehow found yourself with one wish or a magic wand—a sort of realistic one, but this wish or magic had to be for children's early programs, like a daycare, playschool, or kindergarten, what would you wish for? Recently, I asked some parents of young kids, moms and dads, this question and here are their answers.
A. Catherine, mom of 3, also an elementary teacher, said, "Lots of space and time for active play."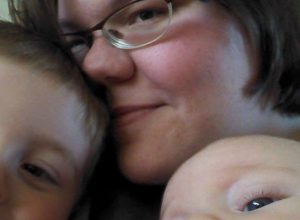 We don't need to be reminded that kids love to be active and have to move. It happens every single day. So much so, if kids aren't squirming, wiggling, running, climbing, and crawling, we worry and check if they are sick. Kids are hard-wired to move. Brains use body movements to train pathways and connections for all kinds of thinking.
Homes and child care programs don't always have lots of space for movement activities so we may have to be creative. When it comes to time, children's days should include movement activities. Here are some suggestions: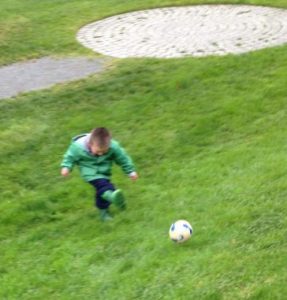 One backyard + a ball = hours of fun. Playgrounds and parks can be substituted if you don't have a backyard. Sometimes, neighborhoods include resources you might not think of for open spaces. For instance, there may be a church in your area with a parking lot that is empty at some points during the week. A nearby school may allow kids with an adult supervisor to play on the grounds when it's not recess. Kicking a ball is fun in any weather, even rain and snow. Fences and walls are challenges for balancing. Are there any skating rinks or swimming pools with special times for young children and families?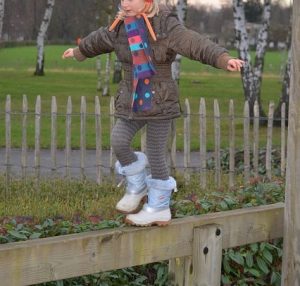 Inside the house, a basement or gym might be on the wish list, but don't overlook the hallway. With the doors closed, a hallway is ideal for throwing sockballs. These are like snowballs made from mismatched socks all rolled together. Other quick and easy movement activities for kids that can happen in a hallway might be tumbling or headstand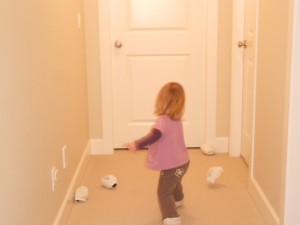 Foam mats turn any open space into a place for jumping, rolling, stretching, twirling, and more. Line up two or three chairs to be a tunnel for crawling under. Make a small obstacle course with a chair for going under, a coffee table for going around, and the sofa cushions for rolling on. A small trampoline in a corner gives space for jumping.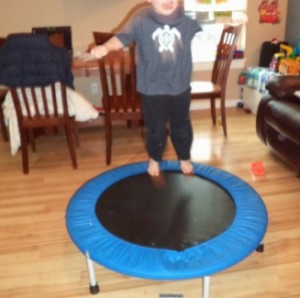 Of course, music or dance video invite quick and easy movement activities for kids and adults too. Will your child's day include some space and time active, vigorous play?