Every Monday morning, 5-year old Daniel Mulligan, waits on his family's lawn for the garbage truck. Not surprisingly, he waves. But last Monday morning, instead of driving away, the driver put the truck in park and hopped out with a present for Daniel. In the bag, was a garbage truck for his very own. The video of this minute in time has gone viral.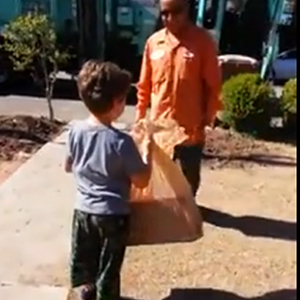 As parents, teachers, and caregivers, we do not realize how a brief minute can impact a child's early learning and development. Daniel's mother, Robin Newberger, is quoted as saying, "He loves the predictable movement of the hoist and is excited by the entire spectacle….To him, trash pickup is like a symphony."
For kids, routine is a powerful strategy that helps them cope with the world. All of us like to have an idea of what's coming next. There are so many things about the world to figure out that kids can feel "lost in space". To be able to say in their own minds something like: the truck will stop, the crane will pick up the garbage, it will lift it up, dump it out, and put it down, and have the sequence happen like that each time, is very reassuring. It's quite an achievement too.
Not only did Daniel watch the garbage truck, he connected with the moment and the driver by waving. A wave is a form of communication, a way to greet and interact with someone else. It obviously created a connection, because the sanitation worker purchased the toy truck with his own money for the little boy who watched and waved.
Even though this is a very small bit of time, it's effect will be felt for far longer. The little boy may not even recall it when it grows up, but his heart will remember and his brain will have a thinking strategy and pathway. We can influence children's lives profoundly with small actions and small amounts of time. Today, can you take a minute to touch the heart and mind of a child?
FREE ONLINE COURSE
Enroll in this free online course, Brain Power and Play for Young Children, to learn how to boost your child's brain power before kindergarten!