When we think of doing art projects with kids, we think of using paint, paper, glue, playdough and other materials, but Lego and Duplo? Yes, kids can do amazing art with Lego bricks that adds another dimension to learning, fun, and kindergarten readiness. Has your child tried Lego art? Have you?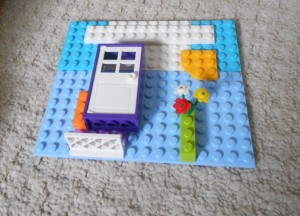 When Little Sister went down for a nap, Big Sister and I got out the small Lego bricks. Since these are small, it's safer to use them when she's asleep. (Not just because they are a swallowing hazard, but because she likes to put things in little spaces and holes. She noticed an eraser was very thin and slid it over the screen of the fireplace. That was tricky to get out.) I mentioned I wanted to try making a picture with Legos. Most of the bases were already in use for various constructions, so we put a few small ones together to make a sort of page. When I asked for an idea for a Lego picture, Big Sister suggested a house, each of us with a base.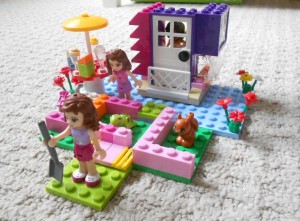 After only a few blocks, something unexpected occurred. When I began making a door for my house, Big Sister found one in the Lego box and gave it to me. As I placed it down flat, she told me it needed to stand up. I showed her the part where I had put a yellow piece to be the sun, like in a picture, and the door would be in the picture too. She decided to show me how it 'fit' and added one to her picture. Even though pictures are 2-d, her Lego art is 3-d. I guess that is another dimension to art.
There are all kinds of amazing works of art using Lego created by kids and adults, both flat and 3-d. For a play-of-the-day, how about some art fun with Lego?