Kids like to make something special for their moms and here's a suggestion for one to build—Mother's Day Lego flowers. Made by hand with lots of love.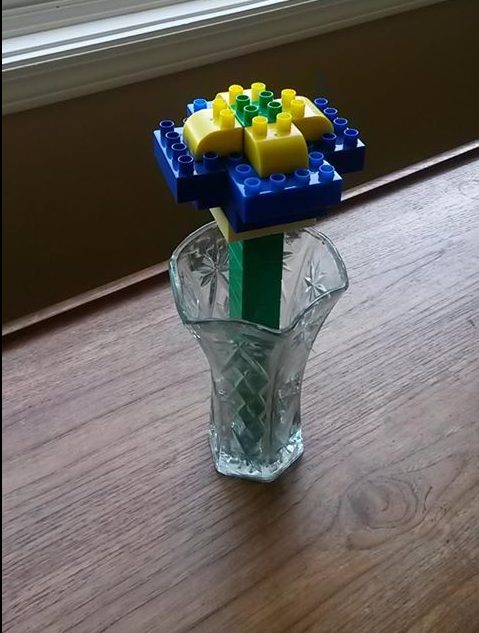 A friend's son made this for her, which she treated like any other flower and put in a vase. Without the water, of course. This flower means more to her than a dozen of the most expensive roses. What a sweet idea that he came up with all by himself and then made. Making something himself that was so appreciated boasts his self-esteem and strengthens the bond between them. It quite likely even made up for times when his mom accidentally stepped on piece and experienced that sharp pain unique to Lego and Duplo that parents and caregivers can remember forever.
Not only was this flower imaginative, it was also engineered. Kids may want to make a flower for mom out of paper, play dough, recycled or other materials. The paper one in this photo is 3 different flower shapes on various colors of paper all stacked together. Fold a pipe cleaner in half and make two tiny holes in the center. Kids can poke the pipe cleaner in the two holes in the center and twist together for a stem.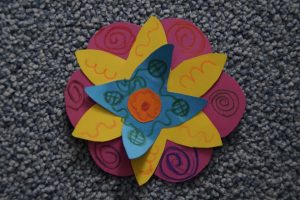 If kids would like to try making Duplo flowers, an easy one is a tulip, with step-by-step instructions and images. This one I might even be able to manage.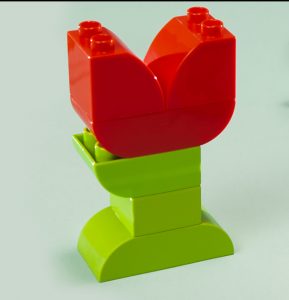 A much more difficult one is a rose, like the one in the video below. This uses the smaller Lego bricks rather than the larger Duplo ones. The smaller Lego needs more motor control to manipulate than the larger Duplo. Check on the internet for more ideas but kids will have their own thoughts on how they want to make one.
Another idea is to make a vase to hold a glass for real flowers. Start with a base and kids add blocks around the edge, leaving a space in the middle. Set a plastic glass inside, add water and flowers. Make sure to pick up the holder by the bottom base for moving it because the water makes the vase heavy!
Whatever kids build, Mother's Day Lego flowers, or some other creation, it will be a gift from the heart.
Happy Mother's Day from Mrs. A at 1 2 3 Kindergarten.