One of the most powerful activities that we can do with young children to help them with early learning, kindergarten readiness, and important thinking skills, is to read and and talk with them. Did you know that when we talk and read to kids their brains develop 700 new neural connections every second? It would only take 24 minutes to develop 1 million! What a staggering amount of activity and processing in the brain.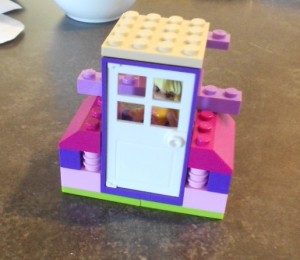 Playing with Lego and Duplo is one way of supporting reading and talking. Recently, Big Sister had heard for the umpteenth time the story of Goldilocks and the Three Bears. Later, she decided to make the house with Lego. Here it is and if you peek inside, you will see Goldilocks.
If you notice your child making a tower, you can stop and ask if Rapunzel is at home. While it would be difficult to make the straw or stick house for The Three Little Pigs, younger kids could easily make the brick one for the third little pig with Duplo.
Besides fairy tales and farm stories, there are other favorites. Duplo has a train that could be The Little Engine That Could. Younger ones or older ones might enjoy creating an endless variety of bridges for the Three Billy Goats Gruff to cross. Watch out for the troll!
Besides making buildings, kids might want to try a Very Hungry Caterpillar. If your child has a current favorite story, you may be able to suggest something that s/he could make with Lego. Kids can also imagine and create their own stories as they play. Combining stories with Lego is one way of encouraging children to enter into the story, to relate it to their world. It also supports remembering, using words they have heard in books, making mental images and more.
How would your child finish: Once upon a time, there was some Lego and…?