When reading about silly pranks today, I discovered that in some countries it was also Edible Book Day. At first I thought this was a really clever prank, but it's been happening for 14 years around the world. Typically, it's celebrated around April 1st and everywhere people get to "eat their words" as they enjoy food for the mind and tummy. There's even a website: Books2eat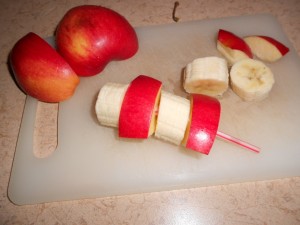 What a fun idea, especially for kids. When it comes to books, reading and sharing them with kids is a tremendously powerful brain building activity. During the early years, when we talk and read to kids their brains develop 700 new neural connections every second! At that rate, one million brain links would only take 24 minutes. We can make our kids brain millionaires by reading to them less than half an hour a day. It could be 10 minutes in the morning, 5 minutes before supper, and 10 at bedtime. If reading a book isn't an option, you could also tell a story, either one you remember or one you just make up. All those brain connections build skills and strategies for kindergarten readiness and beyond.
Does your child have a favorite story? It's easy to make an edible book of The Very Hungry Catepillar; just use cupcakes with green icing. Make some spaghetti with meatballs for Cloudy With A Chance of Meatballs for supper. Skewers with a bit of red apple and a banana slice make Cat in the Hat hats. An english muffin, cut in half, with a little tomato sauce and pepperoni could be a ladybug for The Grouchy Ladybug. How about some cookies for Cookie Monster and the Cookie Tree? With a little bit of playdough, kids could also make their own books for pretend eating.
Instead of "eating" a book today, you may just want to read one. As you read the book to your child, you can talk about the story. Is it a scary one or maybe silly? What's happening in the pictures? This helps your child clue into the meaning. What book(s) will you read today?