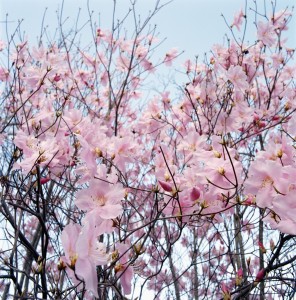 The weather here was so sunny and warm, it felt like time to sing. So we did, with a simple song that celebrates spring and warm weather. Did you know that singing is more than fun? It supports many aspects of early learning, kindergarten readiness, and life skills. But first here's the song, to the old tune of Goodnight Ladies:
Goodbye winter, goodbye winter, goodbye winter, it's time to go away.
We added lots more things to say goodbye to: goodbye mittens, goodbye winter boots, goodbye snow sled, goodbye wooly scarf, goodbye winter coat, goodbye snow shovel, goodbye ice skates, and more. We changed the words though for goodbye snowman:
Goodbye snowman, goodbye snowman, goodbye snow, we're sad you've gone away.
That's only half the fun. The other part of the song is singing hello.
Hello springtime, hello springtime, hello springtime, we're so glad you're here.
We sang more hellos: hello warm sun, hello new plants, hello green grass, hellos little birds, and here's another spring color …
Hello cherry blossoms, hello cherry blossoms, hello cherry blossoms, you are nice and pink.
Singing stimulates connections in the brain and connections between people. When we sing together we are sharing an experience and interacting on an emotional and social level. In the brain, songs help with recognizing patterns, stretching memory, and practicing language. Ears and minds gets exercise in listening. The rhythm, the up and down, the notes and spaces, are similar enough to prewire pathways in the brain for math. Eyes got a chance to carefully watch for signs for spring.
All that in one song. This is a song that kids can sing practically anywhere, no matter what the weather is like where your family lives. This year seems to have had quite enough winter. Are you and your child happy to welcome spring?