At Easter time, there are many different ways to explore the sense of touch. Sensory information not only helps children learn about the world around them, it also cues the brain to make important connections for learning and supports kindergarten readiness.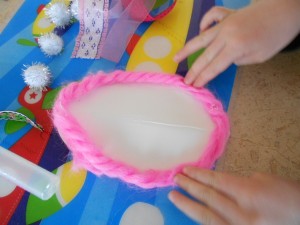 A hunt thru the scrap box revealed all kinds of different textures: soft and furry, bumpy, smooth, a little bit scratchy, and lacey. Big Sister found several that she particularly liked and put them aside for making a touch-feel Easter egg. To start, first we used part of a box to cut out a big-egg shape. Then it was time to glue the different bits of texture to the egg. She decided to put them in lines across the egg, except for the one color of wool which she used around the edge.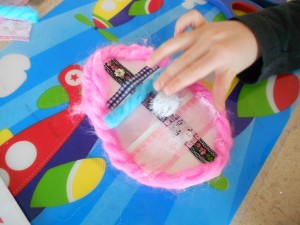 Many preschool and child care programs now include sensory tables for children to explore different ways that a variety of objects feel. At home, another way to stimulate the sense of touch is with water in the kitchen sink. Kids love to fill and pour, and this is a valuable sensory activity. Play dough is another favorite for all kinds of touching: rolling, squishing, pulling, patting, smooshing, and more.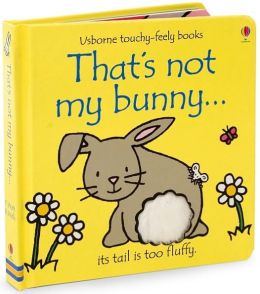 Children's books often have pages of different textures. A popular book for this time of year is That's Not My Bunny, by Fiona Wyatt. There's lots of wonderful words to describe textures that kids get to hear as they listen to the story. Besides making a texture egg, kids could also glue scraps to make a touch-feel bunny.
Some other Easter textures are smooth eggs, crinkly paper grass, woven baskets, smooth real grass, furry bunnies, and melty chocolate. The part of the body that most likes to feel chocolate is the mouth! The whole body might get to feel some warm sun when hunting eggs. What are some other activities for kids and the sense of touch?