Are you thinking of registering your child in a sports league?
Many parents and caregivers are keen to register kids in a sports league or community club and wonder if their kids are old enough. To answer that question needs more information about how it's organized and about the individual child. Here are some points to consider:
How is it organized?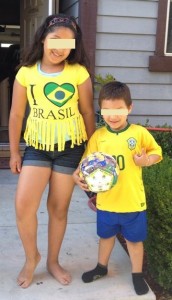 Any sport or game for kids needs to be organized on fun and play. When kids play soccer, they like to kick the ball and run. When they play ball, they like hitting a ball with a stick and running. When they play hockey they like to hit the puck with a stick and run as best as they can with skates. When they golf they like to hit the ball with a stick and run after it. The running can be varied with some jumping, twirling, tumbling, etc. If in gymnastics kids, will slow down and walk on a balance beam. A hula hoop is about the only way to have kids stand in one spot. An important point is that the activity is based on play.
How about your child?
Young children are not ready for a competitive aspect. Goodness, grownups have problems with this. A question to ask yourself is how your child manages with instructions. If a child has a challenge following directions, being in a program can be frustrating. A sport can also help a child learn and practice but all adults involved will need to monitor this. Language can be an issue. Kids need to be able to understand the coach or instructor and they also need to be able to talk so they can be understood. Is your child confident enough to ask for help when necessary? The age of your child is another point to consider. Not all sizes of equipment is appropriate for all ages. Your answers about your child will influence your decision about registering in organized sports.
Having vigorous physical activity and play is a must for any child. Many communities have great recreation programs for kids.    For a play-of-the-day, how about playing a game? What does your child enjoy?