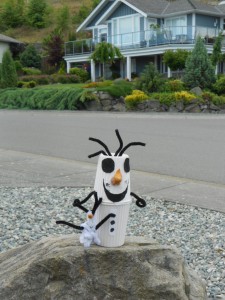 What better way could there be to celebrate the first day of summer than some time outdoors in nature? Olaf agrees too. For those of you who haven't seen the movie Frozen, Olaf is a walking, talking snowman who dreams about summer.  He not only dreams, he also sings and dances around just thinking about summer. When he does experience summer, Elsa makes him his own snow cloud so he doesn't melt.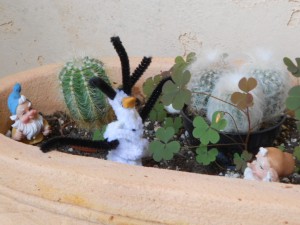 We started by making Olaf. Big Sister twisted some white, fuzzy pipe cleaners into round shapes. Some small pieces of black made the arms and hair and a tiny bit of orange playdough became the carrot nose. I'd pinned a craft that used 2 cups together and when Little Sister had a nap we made that one. When she woke up, we took the 2 Olaf's outside to 'show and tell' about summer.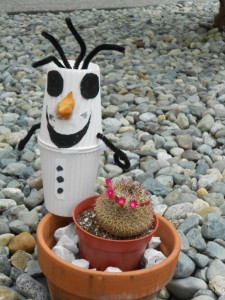 In summer there is s'posed to be warm sun, but sometimes it's cloudy and rainy. We found some flowers, grass, lots of plants, and green leaves on the trees. There is no snow on the mountain in summer. Earlier in the day, we'd heard some birds. We've also seen lots of caterpillars and a few earth worms that came out when it rained. Finding summer things to show Olaf was lots of fun and encouraged careful looking.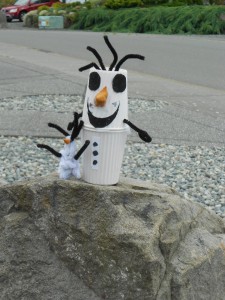 More and more, we are hearing about how important it is to encourage children's connection to nature. For many children, this is missing from their early learning and development. Time in nature helps kids create thinking paths and channels in the brain. Nature is a playground and classroom for discovering, exploring, solving problems, moving, observing, sorting things into groups, putting events in order, listening, and more kindergarten readiness and early learning skills. Time in nature can encourage children's creativity and connections to self and others.
No matter what the weather, can you and your child spend some time outside for a summer play-of-the-day? Happy Summer, Olaf!