Making a castle for Elsa that looks like the one in Frozen needs lots of toilet paper rolls and a good chunk of time but it was a fun craft. There was a good bit of learning too with lots of problem-solving practice, patience, and doing steps in order.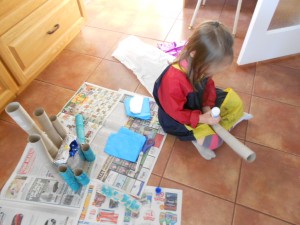 Discovering the bag of paper rolls waiting for a project was full, Big Sister wanted to try an Elsa castle. We looked at Google for some images and saw lots of ideas. The recycling basket also had a small box and an empty cereal carton.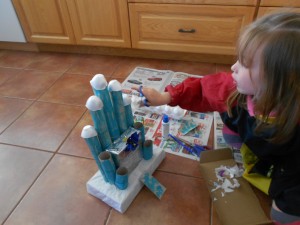 Step 1 was sliding the rolls together to make towers of various lengths. The tallest tower is 5 rolls, then two of 4 rolls, 3 rolls, 2 rolls and 2 single rolls for the sides. We didn't have enough paper and tape to cover them all so used a blue paint dabber instead. The rolls didn't stay together, so we discovered Step 1 should have been painting the rolls and sliding them together would be after.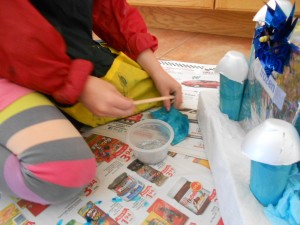 While the rolls were drying, we covered the small box with shiny paper. Foil would work or tissue paper if you don't have any leftover wrapping paper. The cereal box is covered with white tissue paper for the snowy North Mountain.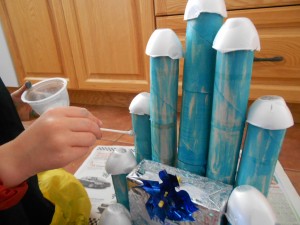 Big Sister worked on cutting an egg carton into the tops of the towers while I carefully traced around and cut out a space inside the traced area for all the pieces. We wiggled them in with a bit of squishing so they would stay in place.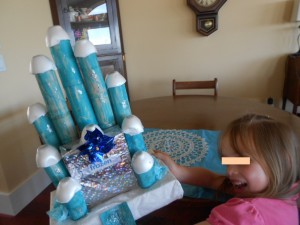 Aghast at the thought of sprinkles leaving a trail in the house for weeks, we made glitter glue. This was simple to do by squeezing some clear glue in a small cup, shaking in sprinkles, and stirring. I thought it might clump but didn't and the glitter was under control. The popsicle stick was tricky and a q-tip easier to dab on snow.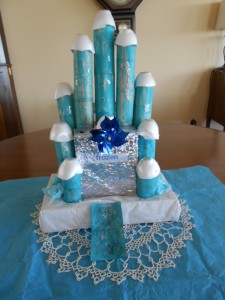 We added a sparkly pinwheel and the word 'frozen' from a grocery flyer. All done, the castle earned some oohs and aahs from Big Sister. She proudly displayed it in the big front window so people could see it  while we cleaned up the floor. Once that was done, she whisked it away for some fun and play…and a few more times of singing Let It Go.
What Frozen crafts has your child done? How many times a day to you get to hear the songs?