This Sunday, June 29th, is International Mud Day. All over the world, kids of all ages will be mixing, squishing, splashing, rolling, making, and playing in the mud. The mud fun can start even before that date. Here are some ways to enjoy playing and learning in mud, including tasting some–a friend last year shared how to make Dirt using cookie crumbs and ice cream! (see end of post)
Mud Play and Learning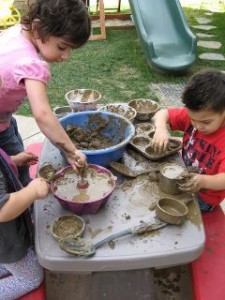 Playing in the mud can be hands, feet, or the whole body and it is certainly sensory play. Not only are kids having fun, they are learning at the same time, and developing skills and brain connections for kindergarten readiness and beyond.
Seeing what happens to dirt and water and how it combines is basic science. What else does mud do? Why does it get hard and lumpy after a while?
There are great words for talking about mud like slippery, squishy, liquid, and others. Kids will love to share and tell about what they are doing in the mud.
Squeezing, mixing, stirring, splashing, and rubbing the mud all over, exercise small muscles in the hands and arms. Stomping uses the big muscles in the legs and the little ones in the toes.
Mud play is definitely imaginative. The mud can be cakes, pie, secret potions, and more. Kids mold and shape with mud exploring and creating.
Kids can play in the mud by themselves or with friends. It's inexpensive and ordinary items like spoons, cups, pails, little shovels, and other things hiding in kitchen drawers will extend the play. Kids can bury and find little plastic toys like dinosaurs or animals.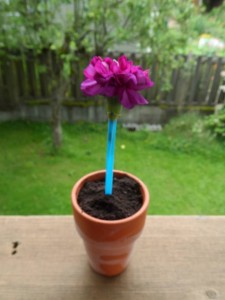 After playing in real mud, kids can come in the inside and have some cooking fun–after getting all clean, of course! Good thing kids are wash and towel dry. Bananas and chocolate milk or a bit of chocolate icecream make a yummy muddy smoothie. Or thick yogurt with a bit of chocolate milk makes a dip for fruit cut into slices and chunks. Would you believe this flower is planted in edible mud? The bottom half of the clean pot is cake cubes, then ice cream, and cookie crumbs on the top. The flower is in a straw but it isn't for eating. How will you and your child celebrate International Mud Day? Happy Day!!