This cooking-with-kids activity is fun enough to do twice in one week. Remember the question from Pizza #1 about what other fruit we could use? Well, here it is: Watermelon Pizza #2 in red, white, and blue. For such simple ingredients, it looks bright and colorful, and can be used for holiday celebrating or any other summer day.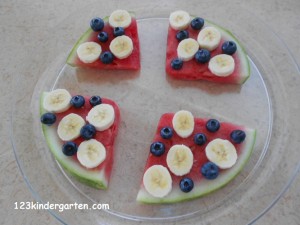 The steps are the same as before. First, cut the watermelon into triangle slices. Grownup hands need to do this but kids can use a picnic or plastic knife and slice a banana into circles. Put the banana circles on the watermelon triangles. You can talk about shapes with your child for some tasty math.
The next part is pretty tricky. Kids can add some blueberries to the pizza. The blueberries roll around when making, moving the dish, and especially when eating. You can model to your child that you feel frustrated but you cope with it by laughing and having fun. Perhaps, talk to the blueberries by telling them to stay in place. Answer yourself, using a small blueberry voice, that round things are supposed to roll. Then, you, the blueberries, and kids can all think of other things that roll.
This watermelon fruit treat combines all sorts of learning and fun. There's shapes and numbers in math. Science comes in when we talk about things that roll and things that don't. There's such thinking strategies as comparing–circles and triangles; categorizing–things that roll; and sequencing–the watermelon and banana need slicing before putting together. Kids enjoy helping and feel valued when they can contribute to something that other people enjoy. Belonging is a powerful feeling for any of us. The fruits help kids learn that nutritional eating can be yummy. There's lots of language and talking together, social skills like sharing and taking turns, and more.
Enjoy July 4th with some red, white, and blue, just for you!