This holiday weekend will be the first camping trip of the summer for many families, and for kids, another adventure in the great outdoors. Nature is one giant playground and kids get to spend from early morning until late evening outside having fun. Did you know that some amazing early learning and development comes with all that fun?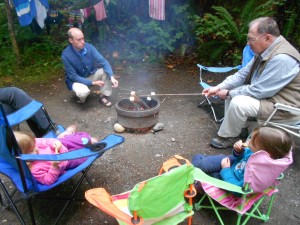 This quote from the Center for Families, Communities, Schools and Children's Learning explains how: "Children learn best through their everyday experiences with the people they love and trust, and when the learning is fun. And the best place for these experiences is outdoors, in the natural world."
That sure fits with camping, when kids are closely involved with their families in such ordinary tasks as making meals, washing dishes, shaking sand and rocks out of shoes, and other chores. Some of the experiences are very unordinary, such as sitting around the campfire, gathering sticks, and carrying pails of water. With these, there is even more opportunity for learning and adventure.
Camping brings a different way of doing things and new challenges, so kids get a chance for lots of problem-solving. With campsites and tents or trailers being so much smaller, kids have more chances to see adults solving problems too. There is more time for talking and being together, promoting language and social skills. There is no doubt that nature is much closer when camping. Sun, wind, and rain can't be ignored and they all have much greater impact when camping. Likely, there will also be more learning encounters with bugs, worms, and other critters. This encourages closer and deeper connections to nature.
Camping can happen far away from home or right in the backyard. Either way, it's magical for kids. Does your family have a chance to go camping?