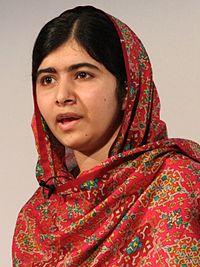 The announcement of Malala Yousafzai and Kailash Satyarthi  as co-winners of the Nobel Peace Prize also means recognition of the importance of children's education and rights. The Nobel Committee selected them for "their struggles against the suppression of children and for young people's rights, including the right to education." Malala is known as a passionate activist for the right of girls to go to school and wants to see  "every child going to school to get an education."
Sometimes, we think of school and home as being quite separate, but parents are a critical part of school. It's easy to overlook that parents are children's first teachers and home is the first school.  90% of the brain develops by the age of 5, and during those years, kids are at home, not at school. Once children arrive at school, that doesn't mean parents role is done. Parent Involvement is a key factor in school success. Parents are part of children's education over the long-term.
What are some things as a parent that you can do to support your child's early learning and development? That will fit into busy schedules and family budgets? There are 1…2…3 easy things that you can do.
First, include lots and lots of words in your child's day. This can be by having conversations, singing, telling stories, listening to children's songs, and talking. You can talk about things and to things. For instance, make up a conversation between the spoon and fork when setting the table. Remind the towel that it needs to hang on the towel bar instead of 'hanging out' on the floor.
Read and share books with your child several times a week. One of the biggest educational challenges for your child will be learning to read and this will give your child a powerful start. You can do this anytime of day and use minutes waiting in line and for appointments.
Movement is children's first form of communication, before they learn to use words, and moving helps brains makes the connections and pathways for math and language. Include lots of movement in a day for your child.
The No-bell Prize for Early Learning, Development, and Education doesn't go to School, it goes to Home!