This year marks the 100th anniversary of the start of World War 1 and throughout the world there are ceremonies to remember. Not just this war or those veterans, but other ones in history as well as those conflicts happening now. On Nov. 11th, we will pause to remember the service and sacrifice of veterans and military personnel.
One particularly moving photograph highlights one of those sacrifices. The photo of a column of soldiers shows a little boy running to catch up to his daddy as he marches past. The photo is called "Wait for me, Daddy.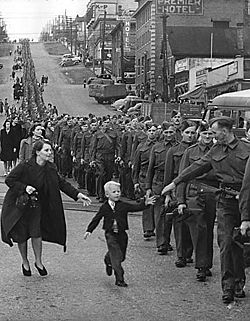 Children today are generations away from that time in history, but for some children, it's much closer. Did you know that today in military families, about half the children are under the age of 5? During the most sensitive and important time of development, military children will be separated from a parent.
Today, like any other day, your child will likely call out to you to wait. Usually, the response is to tell the child to hurry. Instead, today as your child asks, could you think of this photo and maybe wait that minute or two, as a way to remember those who can't?