Dinosaurs and turkeys may be connected, but we all share a connection to nature. For young children, time in nature is part of their healthy development and well-being. Not only do we need to give thanks for the natural world, we all need to spend time with nature. After the hectic activity of the month, how about a nature walk with your child?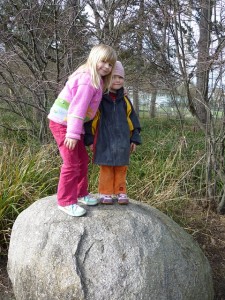 While young children are not likely to find fossils or feathers on a walk, they should be able to locate some natural items. Cities have nature in pockets instead of big open areas but there may be fall leaves, dried flowers, pine cones, sticks, and rocks. The ground may have a blanket or snow or a carpet of fall-rain green. Besides looking down, we can look up to see the nature of the clouds in the sky. Trees will give clues about the season with colored leaves or bare branches. Our own bodies will respond to the rhythm of the season and the changes. We do not live separate from nature but as a part of it. Children need to experience how they feel different depending on the time of year.
We have just seen the incredible achievement of landing a space probe on a comet to further our knowledge and understanding of Outer Space and the Earth itself. While we look deep into space, we need to remember to look deep at what we have. In the words of Thomas Berry, in The Dream of the Earth, "Teaching children about the natural world should be seen as one of the most important events in their lives."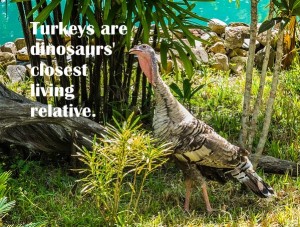 Perhaps, children's fascination with dinosaurs comes from their longing to know about the world and its mysteries. And, at the same time, the turkey reminds us to give thanks and be grateful. Perhaps, that's the message of nature?