Christmas might be over for another year, but the fun isn't, because now comes Boxing Day, the day when kids get to play with the boxes! Sometimes, the new toys are put aside and the adults wonder why the kids are more attracted to the boxes or wrapping paper tubes. The answer involves two things that kids need and seem to be opposites.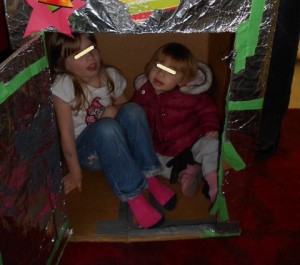 With all the excitement and stimulation of the holidays and Christmas, kids can easily be overwhelmed and overstimulated. They need to reestablish their space. One way to do that is with a box. Because the box is contained, kids feel safe and secure. They can determine the conditions for play themselves and set the limits and rules. Within a box, kids can control the movements of their bodies and also the range and depth of their emotions.
Not only does a box meet the need for children to be able to control a space, it also allows kids to venture out little by little. Using their imaginations, the box can be a room, a house, or a whole new world. The possibilities of a box are huge while the space of a box is small. A box can be anything a child wants, but the child gets to choose.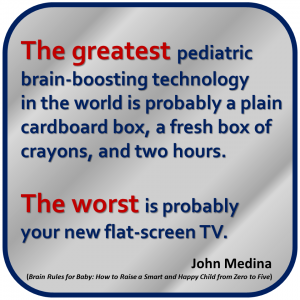 Boxes permit kids to be endlessly creative. The potential for play is unlimited. New toys are unfamiliar and kids are less able to explore and invent. Inside–or outside–a box kids can allow their imaginations to travel anywhere while staying right at home. Author and scientist of Brain Rules For Baby, John Medina advises that "The greatest pediatric brain-boosting technology in the world is probably a plain cardboard box, a fresh box of crayons, and two hours. The worst is probably your new flat-screen TV."
For boxing day, are there any boxes that your child can use for play?