The New Year has started and this year, instead of only resolutions, how about adding in some wishes for kids that encourages them to hope and dream?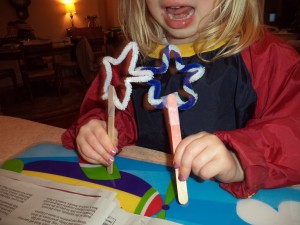 On several blogs, I've seen this wonderful idea for wishing wands made with stars. Big Sister, who is 6, and Little Sister, who is 3, each made some wishing star wands. We used sparkly pipe cleaners and popsicle sticks. Bending a pipe cleaner into a star shape is tricky. It's easier if adult hands bend the pipe cleaner in half and use that as the top point of the star. Form each side with another arm going straight out, then a second pointing down. Join the 2 ends of the pipe cleaner in the middle at the bottom. These were easy to tape on the stick. Big Sister colored on the stick and glued on some sprinkles. Little Sister did too in a few spots but her hands cover them up.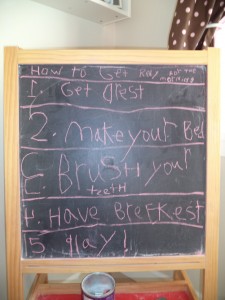 While we worked we talked about it being a new year. Sometimes we think of things we want to remember to do. Big Sister had the idea right away and later wrote on her chalkboard what she wanted to do for having a good morning. Little Sister is not yet at this point in her development but "evey day" she gets ready too. We also talked about wishes and things we hope for in the New Year. Big Sister wishes she could do gymnastics. Little Sister immediately showed us how she could jump and twirl. Good thing we had finished doing the star wands because that started some indoor gymnastics. We'll save the wands for going outside at supper time and seeing if there are any stars for wishing.
Do you remember saying the poem for wishing on a star? Star light, star bright. First star I see tonight. I wish I may, I wish I might, Have the wish I wish tonight. Since it's dark so early, we'll take our wands outside and wish upon a star. What are your wishes for the new year?