For the new year, have adventures with kids. Today's post is still in alphabetical order because V=adVenture and we can do them every now and then. In a way, new year's resolutions are also a sort of bucket list. Where would you and your child like to venture? Here are some ideas, some from an earlier post and some new ones:
Adventures will depend on the age of interests of your child, as well as the rest of the family. A sleepover at a relative or friend's house can be exciting and a special treat, even if it's only a few blocks away. There's an extra element of independence and a bit of risk of the unknown.
If your child is too young for an overnight visit, you may be able to go spend an afternoon. Baking a batch of cookies and inviting a friend to have some play-time in the park can be an adventure too. There may be a local facility or attraction. In our area, we can go to a butterfly and bug zoo, as well as the pool or skating rink. There are often numerous parks and playgrounds. What is available in your community? Is there a story hour for kids at the local library?
Going out for breakfast can be special to a child, or staying at home and having a big spread for the whole family on a Saturday or Sunday morning. Eating outside is always fun but if you can't, any meal can be a mini-adventure by putting a blanket on the floor and having a picnic.  Or, a real tea party using the play dishes. Turn an ordinary Friday night into a beach party, movie night, or pizza and popcorn feast.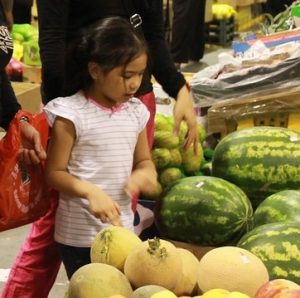 Grocery shopping with kids doesn't count as an adventure, or does it? There might be an outdoor market or place where you don't regularly go. Instead of the main objective being to get in and out as quickly and simply as possible, go with the idea of exploring. Check out what's new and different, as well as what's the same. Treat it like a new venture and take a selfie of you and the kids in front of a display. Maybe pick up one or two edible souvenirs.
With a different focus, even the ordinary can be a way to have adventures with kids. Got any on your new year's resolution-bucket list?