This play-of-the-day combines 3 ingredients: a book, movin' and groovin', and dinosaurs; what an awesome combination for kids and valentine fun.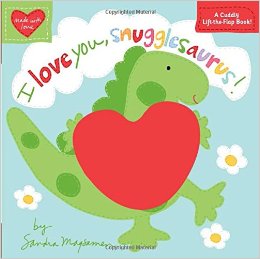 Dinosaurs appeal to kids of various ages. In the story "I Love You, Snugglesaurus" by Sandra Magsamen, a dinosaur encourages kids to do a variety of actions, such as jump and clap. When reading the story to kids, they can get involved by doing the actions on each page.
Movement and physical activities are so important for young children, not just for healthy bodies but also for healthy minds. As children move, they exercise muscles that are still developing. They also figure out the necessary mental thinking to make muscles move purposefully. After reading this story, kids can suggest their own ideas for ways to move like a dinosaur.
Reading books to kids is tremendously valuable. Learning to speak and use language is massively complex and kids need to hear millions and millions of words. The challenge of learning to read is much easier if children have a strong language foundation. With this book, children get to connect what they know about dinosaurs with the excitement of valentines. This story has some extra bonuses, like hugs and snuggles.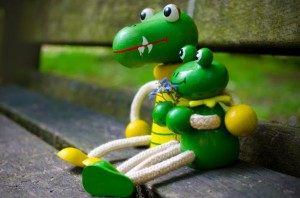 Valentines is a special event for kids. Feelings and emotions can be pretty complicated. Valentines focuses on loving and caring. We think of different ways to say I love you and different ways to show others about our feelings.
Sharing books boosts language and reading. This story also helps kids understand emotions in themselves and others.  The movement fun is just a warm up for more exercise for kids. And the dinosaurs? While dinosaurs may not have had big hearts for feelings, this story will warm hearts, and minds, and bodies. Would you agree there are lots of reasons why this book is dino-mite?