Valentines is about friendship and magnets really like certain metals. For valentines, how about a magnet and science play-of-the-day? Since February is still winter in many places, these magnets are frozen in ice. Will they still work? Does the ice make any difference?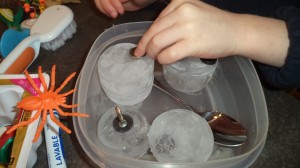 Before doing this, I froze magnets in containers just a little bigger than the size of ice cubes. Some of the magnets were right near the side or the middle at the bottom. By freezing a small layer first before filling up the container, I was able to get some magnets in the center.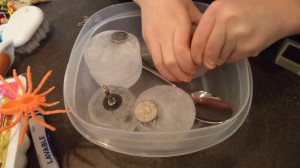 As Big Sister (6) and Little Sister (3) explored a bunch of little bits from the junk drawer, they quickly discovered that the magnets near the edge of the ice still worked. To make sure that any one item was attracted to the magnet, there was one magnet that wasn't frozen in ice. We could check if the magnet would pick up the nails, screws, plastic spiders, and other assorted pieces.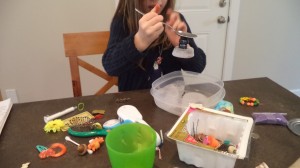 Big Sister discovered that the unfrozen magnet would pick up the other magnets even in the middle of the ice. She tried this over and over. Since sometimes the magnet wouldn't work, I asked what might happen if she turned the ice block upside down or turned the magnet over. Little Sister liked touching the cold and see what would stick on the magnets near the top of the ice.
Science can happen for kids using everyday, ordinary items. Kids don't need expensive equipment or parents with science degrees. This science fun used ice, magnets, and miscellaneous objects from around the house and the toy box. It sounds like a contradiction but there's plenty of room in science for creativity and imagination. Kids are great scientists because they wonder and ask questions. Does this play-of-the-day sound like fun for your little valentines?