Plastic Easter eggs and some small bits from the junk drawer combined for Easter egg magnet science fun and it was quite an attraction for wee hands.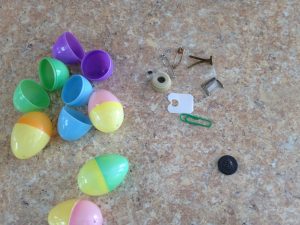 Do you have a drawer in the kitchen to hold all the assorted bits and pieces that don't go anywhere else? While often called the junk drawer, these things can be treasures for kids. The kids looked thru the items and picked out some small metal, plastic, and wood ones. Then, Little Sister and Big Sister discussed which ones the magnet would pick up and which ones it wouldn't. Most of the time, they agreed which ones they thought would be attracted to the magnet. Then, one by one, each item was snapped into a plastic Easter egg.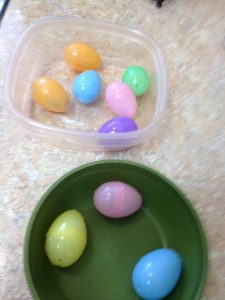 For each hidden object, the kids tried to pick up the Easter egg with the magnet. Some they could but no matter if it worked or not, we opened each egg to see what it was. Some of the items were metal but hadn't worked so the kids tried again without the egg. They were surprised that a metal tack and metal watch clip did not stick to the magnet but a pipe cleaner did.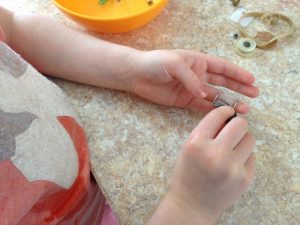 With the magnets and all the pieces, Little Sister wanted to make an 'advention' so she began sticking things to different places on the magnet. There were another couple of magnets and some of the objects twisted together. Creating a sort of free-form sculpture kept her busy playing and inventing. This was certainly child-directed play because she suggested it on her own and played as she wanted to. The Easter egg magnet science fun inspired her to try something different for herself.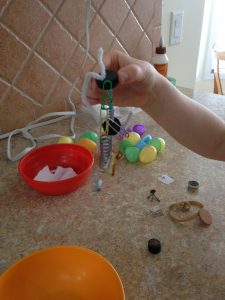 The magnets we used were from old shower curtains. Once the play was finished, all the bits went back in the junk drawer until needed for another play 'advention'. That's a good word because play often is an adventure and invention together, isn't it?