Remember the song to whistle while you work? In the same spirit, that work is easier when it's fun, you can sing while you clean in the spring and turn chores into plays-of-the-day: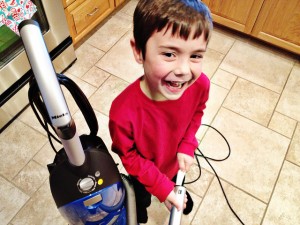 This is the way we vacuum in corners,
vacuum in corners, vacuum in corners.
This is the way we vacuum in corners,
When we clean in the spring.
This is the way we sort the clothes,
sort the clothes, sort the clothes.
This is the way we sort the clothes,
Now that it's spring.
(or at least: since winter's almost gone. Tune is Mulberry Bush)
Having kids help with chores such as spring cleaning is important for a number of reasons. Kids not only like to be included, doing so helps them feel part of the family. Work activities are mostly done by grownups so when kids do chores, that's a sign they are accepted to the adult world, at least for some of the time. They learn valuable skills and strategies that they will use far into the future such as taking care of things, being responsible, and how to clean up messes.
A colleague, Jacquie Fisher at KC Edventures, has made a super printable for age appropriate spring cleaning chores. Here is a link to visit her blog and get a printable copy for yourself. She lists tasks such as sorting clothes and picking up toys inside the house and outside in the yard. For fun, partly fill a big container of warm soapy water and let kids wash toys. It's a good plan to first wash toys from inside that spend a lot of time on the floor, like the wooden blocks and plastic bricks. Once that's done, then kids can wash the ones from outside that are gritty and muddy. Spread some big towels on the grass or deck and let toys dry in the sun.
Besides singing for fun, add some imagination. Kids can pretend to be robots, or dinosaurs, or fairies as they clean. When done, could all the helpers celebrate with a tasty treat?