Easter Books and Stories
Easter is hopping closer and closer which means we can open up some Easter books for kids. These are also ideas for a different Easter basket treat.
There are some books that are favorites for years and years, and at our house we have a few. Easter just wouldn't be the same without That's Not My Bunny, an Usborne touch-and-feel book, and The Easter Egg Farm by Mary Jane Auch. But there are some newer books that I hope the Easter bunny leaves in my basket.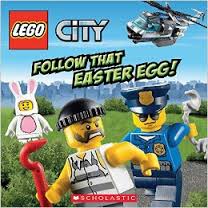 Just released is a LEGO story, LEGO City: Follow That Easter Egg! By Trey King and Sean Wang. Kids could listen to the story and then have fun building with Lego. They could make some Lego baskets or put a few pieces of Lego inside plastic eggs and hide them. Or, we could hide them for kids to seek.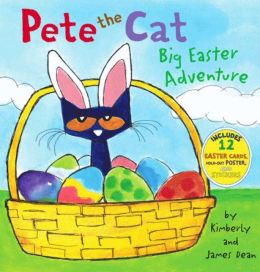 Another recent book is Pete the Cat: Big Easter Adventure by James and Kimberly Dean. Pete gets to help the Easter Bunny with a big problem. Below is a video of the author James Dean reading the story.
As you read the book to your child, there are a few places with obvious places that you can wait and encourage your child to guess the word that fits. For example, "Some eggs were one color, and some were two. Some eggs were red and some were…" Kids who have heard other stories with words that rhyme will be able to say blue. This is also a good story for using the illustrations to name colors.
There are other wonderful stories about rabbits that are not necessarily Easter, like Pat the Bunny by Dorothy Kunhardt and The Velveteen Rabbit by Margery Williams. Judy Dunn not only has The Little Rabbit, The Little Lamb, and the Little Duck but also The Little Puppy, The Little Pig, The Little Kitten, and The Little Goat. These are wonderful for springtime. Don't forget Dr. Seuss' Horton Hatches the Egg.
Reading and sharing books and stories with kids is a treat you and your child can enjoy every single day. This is a powerful way to help build language and basic strategies for the challenge of learning to read. Just 10 minutes a day of reading outloud to your child is about 1000 words. In a year, that's hundreds of thousands. Like rabbits, the words multiply. What are some favorite Easter books at your house?