Active Body Play is an Easter Treat for Young Bodies and Minds
Easter fun for kids isn't limited to eggs and crafts. Kids learn 'on the go' and when they are moving so they need to have some Easter active body play.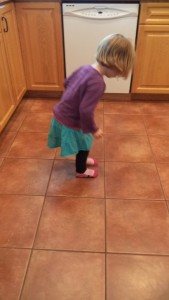 One of the obvious ways to have some active and whole body play at Easter is to hop. Hopping requires body-mind coordination. Two feet have to move together, which is different from crawling, walking and running. Very young kids will hop only up and down. Older toddlers add in some distance and preschoolers create other challenges like hopping down 2 or 3 stairs or over younger siblings.
Little Sister thought the tiles on the floor were just right for doing the bunny hop and tried to hop right over one tile. Besides hopping on both feet, kids can also try hopping on just one foot and then just on the other one.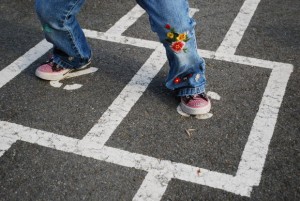 Besides hopping inside, kids and bunnies can hop outside. Hopscotch is a popular game that kids have enjoyed for hundreds for years and there are variations all around the world. Grownup hands can make hopscotch games with only a few small squares for younger kids. Older kids like to chalk up more elaborate ones. Kids can play hopscotch by themselves or with others.
While we think of skeletons at Halloween, not Easter, hopping influences skeletons. Dr. Heather McKay, who has studied the role of exercise on skeletal development, advises, "There is no time as important as childhood for the health …of a skeleton." Children's activities impact the strength and shape of their bones. Movement also impacts the brain. Whole body play and activities create pathways and connections used for thinking and learning.
Active body play can't be tucked in an Easter basket, but it is definitely a treat for bodies and minds. For some Easter fun and learning, can your child make like a bunny and hop?