Young Kids Can Color and Decorate Easter Eggs
One of the popular traditions at this time of year is to color and decorate Easter eggs and there are a variety of ways to do that with young children.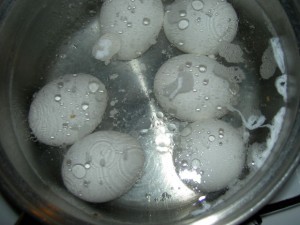 The most important step before doing anything at all, it is to hard cook the eggs. You can do that using different ways too: boiling, steaming, or baking in the oven. When decorating eggs with kids, the eggs often roll onto the floor so it's helpful if they do not spread all over.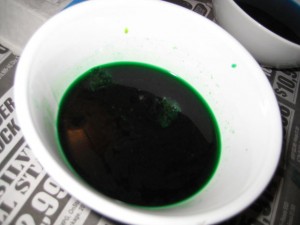 A tried and true method is to use a vinegar bath. Fill a cup or bowl part way up with vinegar and add a few drops of food color. Kids put an egg on a spoon and carefully lower it into the vinegar. The egg doesn't need to be completely covered. Kids can gently roll it in the color, or let part of the egg stay white for putting it in a different color.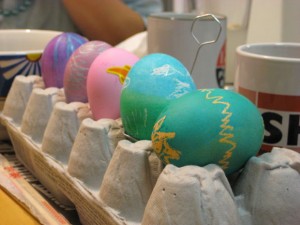 Try wrapping a few rubber bands around an egg or drawing on it with a wax crayon and then putting it in a color. The part underneath the elastic or wax will stay white or kids can put the egg in a second color and discover how the lines will still show. A  yellow egg dipped in red will turn orange. What about other colors?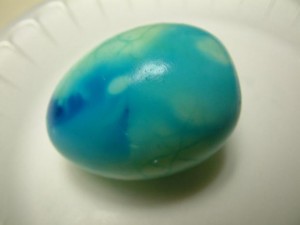 A bit of oil in the dye bath makes a swirly effect. Felt markers are great for simply drawing on eggs, although the drawings can be complicated. Paints are another way to make all kinds of designs on eggs, like stripes or polka dots. Or kids can use a combination of all these. For some extra sparkle, try sparkly stickers.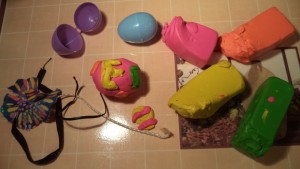 Instead of using real eggs, kids can add playdough or plasticine to the outside of a plastic egg. Scrounge thru your craft drawer at home for things like ribbon, bits of fabric or felt, sequins, beads, even twist ties for decorating these eggs. These eggs won't break when dropped.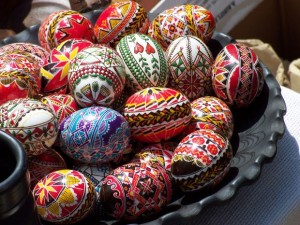 Coloring and decorating Easter eggs is not just for girls, boys enjoy it too. Toddlers and older kids can all participate. Adults make these very elaborate and detailed eggs. These are called pysanky. How do you color and decorate Easter eggs at your house?